Aprilia Scooters
---
APRILIA SR GT 125
APRILIA'S FIRST "URBAN ADVENTURE" SCOOTER MAKES ITS DÉBUT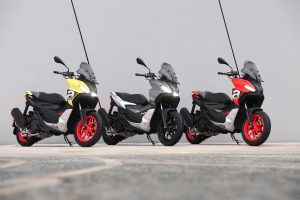 IN-STORE NOW AND LOOKING FABULOUS
Test ride the SR GT 125 TODAY
Prepare to be thrilled
The Aprilia SR GT 125 &  SR GT 125 Sport are designed for rediscovering the joy of riding, whether around town or off the beaten track. With Enduro-inspired features and a host of innovations that deliver a safer, more dynamic and thrilling experience, this is a scooter that brings the much-loved Aprilia grunt alive day after day, on short commutes or adventures further afield.
Latest generation i-get engines, for top-class performance.
Aprilia SR GT also makes a mark on the compact GT scooter segment with its engine power and efficiency. Belonging to the i-get family, this pair of very modern Euro 5-approved units with electronic injection, four valves and liquid cooling are the product of know-how at the Piaggio Group R&D centre for scooter engines, the most important in Europe.
Alongside the 125 cc i-get single-cylinder, accredited with maximum power of 11 kW at 8750 rpm and torque that reaches 12 Nm at 6500 rpm, the Aprilia SR GT 200 (coming in 2023) introduces the brand-new 174 cc single-cylinder, which boasts 13 kW of power at 8500 rpm and 16.5 Nm of torque at 7000 rpm. Values of absolute reference, which ensure elasticity, rapid pick-up and a smooth ride in all conditions.
Results that are achieved with meticulous work across a large number of components, with the aim of optimising the thermodynamic performance. In particular, the new 200 cc engine adopts an aluminium cylinder with Nikasil coating (a motorcycle-derived solution), a new piston with updated crown geometry, and a new head that contributes to optimising the combustion efficiency.
Contact us 02 9557 8500